Front Page
Nation
Business
Search
Subscription
Advertising
About us
Copyright
Contact
Nation
Socialists call for head of NBU governor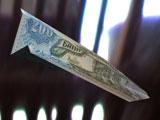 KIEV, Aug. 30 ??" The Socialist Party, one of three groups in the government coalition, Tuesday called for dismissal of the governor of the National Bank of Ukraine, alleging a strong hryvnia is hurting the economy.
Zelenskiy's support likely to fade, pundit says
KYIV, July 30 - A once-obscure Ukrainian regional pundit who gained national attention for predicting the unlikely rise of President Volodymyr Zelenskiy is now predicting the new leader's popularity will swiftly evaporate, Reuters reported Tuesday.
Ukraine loses WTO dispute to Russia
GENEVA, July 30 - Ukraine lost the bulk of a legal dispute against Russia on Monday, when a World Trade Organization dispute panel struck out many of its arguments about Russia refusing to import Ukrainian railway equipment, a major export earner for Kiev, Reuters reported.
Putin expels 755 U.S. diplomats
MOSCOW, July 30 - Russian President Vladimir Putin said Sunday the U.S. diplomatic missions in Moscow and elsewhere in the country will have to reduce their staffs by 755 people, signaling a significant escalation in the Russian response to American sanctions over the Kremlin's intervention in the 2016 presidential election and its continued aggression in Ukraine, The Washington Post reported.
5 countries probing MH17 downing will try again at UN, Kiev envoy says
UNITED NATIONS, July 30 - Ukraine's foreign minister said Thursday that the five countries investigating the downing of a Malaysia Airlines plane over Ukraine a year ago will try again to get U.N. Security Council approval for an international tribunal to prosecute the alleged perpetrators.
Archive of Nation
Currencies (in hryvnias)
| | | |
| --- | --- | --- |
| | 27.09.2023 | prev |
| USD | 36.57 | 36.57 |
| RUR | 0.380 | 0.380 |
| EUR | 38.76 | 38.87 |
Stock Market
26.09.2023
prev
PFTS
507.0
507.0
source: PFTS