Front Page
Nation
Business
Search
Subscription
Advertising
About us
Copyright
Contact
Business
New wind power plant to be launched in Kherson region next month
KHERSON, Oct. 30 ??" The first line of the Prysyvashska wind power plant, which is being built near the settlement of Hryhoryivka in Chaplynsk District of Kherson region, is to be launched in November, Kherson region head Borys Silenkov said last week during a meeting with Norway's ambassador to Ukraine Olav Berstad.

Mittal Steel to pay for $4.8 bln Kryvorizhstal purchase in 60 days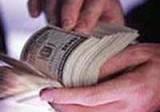 KIEV, Oct. 28 ??" Mittal Steel, the world??™s largest steelmaker, will channel $4.8 bln for 93% in Kryvorizhstal, Ukraine??™s largest steel producer, within 60 days, not 30 days as had been earlier expected, the SPF said Friday. The deadline was outlined in an agreement signed between Mittal and the SPF
U.S. warns of 'malign' Chinese investment
KYIV, Aug 29 - U.S. Secretary of State Mike Pompeo has spoken with President Volodymyr Zelenskiy about U.S. concerns over China's attempt to purchase a Ukrainian engine manufacturer, the State Department said on Saturday, RFE/RL reported.

Archive of Business
Currencies (in hryvnias)
| | | |
| --- | --- | --- |
| | 04.10.2022 | prev |
| USD | 36.57 | 36.57 |
| RUR | 0.631 | 0.631 |
| EUR | 37.27 | 37.27 |
Stock Market
03.10.2022
prev
PFTS
519.2
519.2
source: PFTS