Front Page
Nation
Business
Search
Subscription
Advertising
About us
Copyright
Contact
Business
EBRD may allocate $50 million to Forum Bank for loan programs
KIEV, Oct. 27 – The European Bank for Reconstruction and Development may allocate for Forum Bank (Ukraine) about $50 million for implementing a program for crediting medium and small businesses and issuing microcredits, along with mortgage crediting, Forum Bank reported.

New wind power plant to be launched in Kherson region next month
KHERSON, Oct. 30 – The first line of the Prysyvashska wind power plant, which is being built near the settlement of Hryhoryivka in Chaplynsk District of Kherson region, is to be launched in November, Kherson region head Borys Silenkov said last week during a meeting with Norway's ambassador to Ukraine Olav Berstad.

Mittal Steel to pay for $4.8 bln Kryvorizhstal purchase in 60 days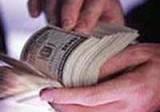 KIEV, Oct. 28 – Mittal Steel, the world's largest steelmaker, will channel $4.8 bln for 93% in Kryvorizhstal, Ukraine's largest steel producer, within 60 days, not 30 days as had been earlier expected, the SPF said Friday. The deadline was outlined in an agreement signed between Mittal and the SPF
Gazprom Q2 report discloses $14.2 billion Naftogaz counterclaim
MOSCOW, Aug. 30 - In addition to its own arbitration claims relating to the terms of the contract to supply gas to Ukraine, Russia's Gazprom has for the first time disclosed the amount of counter-claims by NJSC Naftogaz Ukrayiny, which it said were $14.23 billion.
Turboatom, Zaporizhia Titanium in 2016-17 privatization list
KIEV, Aug. 30 – The government's committee for economic, financial and legal policy has approved a list of enterprises to be privatized in 2016-2017, including Turboatom, Electrotyazhmash, the United Mining and Chemical Company, the State Food and Grain Corporation, and a state stake in Zaporizhia Titanium and Magnesium Combine LLC.

Archive of Business
Currencies (in hryvnias)
| | | |
| --- | --- | --- |
| | 18.08.2017 | prev |
| USD | 25.51 | 25.57 |
| RUR | 0.431 | 0.429 |
| EUR | 29.83 | 29.95 |
Stock Market
17.08.2017
prev
PFTS
287.3
288.0
source: PFTS